What Is There To Do In This State?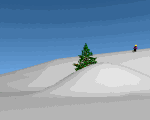 There is something for everyone in Utah. I reccomend citysearch.comTo find specifics.
We have several national parks that are worth your time to visit.There are too many for me to mention here, check out my links page for more information. If the outdoors is your thing, I suggest you pay our national and state parks a visit.
If you are into sports, we have many sporting events skiing, and minor league baseball, hockey, and of course there is The Utah Jazz. If you are going to be in Utah, visiting the Delta Center and checking out a Jazz game is worth your while. Visit the Utah Jazz site for information Utah Jazz info
For information on Skiing, the Olympics or Hotels, I reccomend citysearch
another good sourceUtah.comFor more information on sports visit my links page.
Utah Newspapers are also a good source of information on what the natives are up to current events, concerts and other things happening can be found in the newspapers.
Some Utah newspapers you can access online are

We have historical sites to visit, museums and cultural events.
Looking For More Information? Check Out My Links Page
drinking mormons home Links awards

an independent marketer